Territory
Marina of Vieste
Vieste is situated on a promontory on the East coast of the Gargano. The medieval village, behind which shines green forests of Gargano National Park, is an intricate maze of narrow streets and whitewashed houses stacked next to each other. Vieste is one of the most famous seaside resorts of the Gargano and Puglia. Repeatedly awarded the blue flag, a testament to the quality of the sea, Vieste is also rich in historical sites. Tourists and guests of Palace Hotel Vieste can alternate the days at the seaside, walks and hikes to admire the ancient Romanesque cathedral, a splendid example of Apulian Romanesque, the "Castello Svevo", the "Porta Alt", a time the main entrance to the city.
HOLIDAYS AT
SEA & RELAX

ON THE GARGANO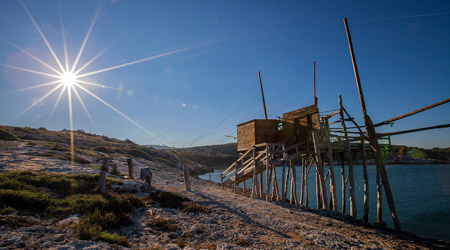 One of the symbol of the city is also the Pizzomunno, a limestone monolith tied to a wonderful legend, a love story that still makes you dream and move the people and visitors.
It seems that the name of the monolith comes from that of a charming, lovely sweetheart sailor Pizzomunno, felt in love with the beautiful Cristalda but wanted also by dangerous and bewitching mermaids.
Every night he would go out fishing at sea and Pizzomunno remains faithful to Cristalda, resisting the sirens causing their insane rage, big enough to push them to drag Cristalda in the depths of the sea, killing her.
Pizzomunno was petrified by pain, enough to become the colossal monolith that dominates the coast of Vieste.
Nowadays who make a full circle around the large rock will see fulfilled their deepest desire.
A holiday in our hotel on the beach in Vieste it will also be a way to dream.