Lido-"La Bussola"
Lungomare Europa
Hotel with beach agreement in Vieste
The beach of Vieste is an extraordinary colour show: golden sand, lapped by the blue waters of the Adriatic, which stands on the emerald green of the vegetation is enhanced by the ever new suggestions of sunlight. Guests at the Palace Hotel, one of the most exclusive hotels in Vieste, can also enjoy the beach and spend their days on the banks of the beautiful sea of the Gargano, at the lido "La Bussola, bathing facility extending over a sandy beach and can offer the right mix of services and relax. To make guests ' stay as comfortable as possible, Palace Hotel Vieste organizes the beach service, providing, for each room, a beach umbrella and two lounges. Here on the coast, you will remain enraptured by the landscape that Vieste offers only a few steps from the Hotel: a coastline of fine sand that sometimes becomes rude, with the cliffs of the Gargano promontory jutting out into the sea to form down, in some points, the fantastic caves, caverns of endless charm.
HOLIDAYS AT
SEA & RELAX

ON THE GARGANO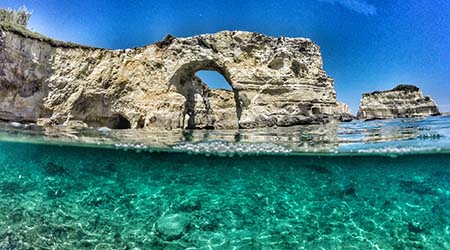 Under the warm sun of Puglia you can swim in a crystal, clear sea and admire the evocative backdrops, where sunlight filters through, creating unique colour shows.
The beach, however, will prove to be a great place to relax and to let children play safely. Taking advantage of the periodic offers of the Palace Hotel Vieste in Puglia you can reserve you a front row seat on the show given by Gargano!
Remaining near Palace Hotel Vieste, moving along the coast, instead, you can admire the ancient trabucchi, wooden installations located on the cliff of the Gargano, used for fishing in those areas particularly difficult due to the presence of huge rocks that stand imposing in the sea.
The long sandy beaches are delimited by a crystal, clear sea that, joining sunlight, produces a light show like no other.
In this stunning picture stands the charm of Pizzomunno, a limestone monolith that rises from the waters of the sea and who became a symbol of the city, made Vieste famous worldwide as one of the most beautiful places of the Adriatic and Gargano.