Palace Hotel Vieste
Historic Liberty House
The Palace Hotel Vieste is a 4 star hotel located in the centre of Vieste in the Gargano, one the most beautiful villages in Puglia, that historians identify with ancient Apeneste, where you can still see the remains of another famous city, Merinum, along the way that leads to the sanctuary of Santa Maria di Merino. Among the hotels in Gargano, Palace Hotel Vieste stands out for its Liberty style: historical house dating back to the 15th century, once the home of distinguished local farmhouses, has recently been renovated and converted into a hotel. The elegance and attention to details make the Palace Hotel Vieste one of the most exclusive hotels in Puglia. Immersed in a unique and refined environment, the guests of our hotel in Gargano will find welcome and warmth of the Apulian world and have the opportunity to be pampered by all the services available at the hotel. In addition, they can easily reach some of the most beautiful places in the Gargano promontory: the beaches of the coast from Mattinata to Peschici, Tremiti Islands and the ancient Monte Sant'Angelo and San Giovanni Rotondo or the Umbra Forest.

ONE OF THE
MOST EXCLUSIVE HOTEL

IN THE GARGANO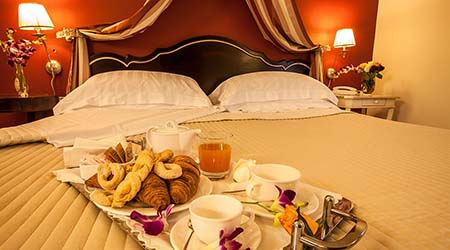 4 star hotel, the Palace of Vieste is the ideal destination for anyone looking for a seaside holiday full of relaxation and adventure, tranquillity and exhilaration, discovering a world of nature, art and history.
In addition to a sophisticated style, our property also offers the extremely professional staff always ready to respond to requests or special needs and to ensure that any stay, long or short, is an unforgettable experience.
Upon arrival at the Palace Hotel Vieste you find yourself immersed in a warm and friendly atmosphere, enriched by the many services offered by the hotel: comfortable rooms, furnished in a refined way, a genuine breakfast rich in products of the territory, a beach in lido and a strategic location to discover the area.
The lounge bar contributes to the exclusive and unique character of our hotel and it's available for guests to enjoy an aperitif or to spend a few hours after dinner, sipping drinks, between carefree mood lighting and relaxing music.
BAR SERVICE
From morning until evening, the bar of our hotel overlooking the sea in Puglia is at guests ' disposal for a cup of coffee, an aperitif or a drink.